Media Highlights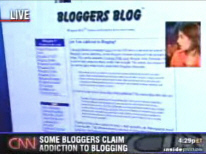 CNN's Inside the Blogs

Bloggers Blog

BloggersBlog.com was featured on CNN's Inside the Blogs program by blog reporter Jacki Schechner and producer Abbi Tatton. CNN's Inside the Blogs is a segment during Judy Woodruff's Inside Politics. You can see a video clip here.



---
Forbes Best of the Web

ShoppingBlog.com
www.shoppingblog.com



While many blogs focus on one an area of shopping (like tech or fashion), this is a good place to start for general, relevant shopping news--from consumer trends to best-selling products. Updated almost daily, this blog highlights articles from a variety of sources (from Allure magazine to Consumer Reports) in easily browseable categories ranging from Auto (entries on comparison gas shopping, a vehicle dependability survey, and "Cars of the Stars") to Holiday (articles on gift ideas for Mother's & Father's Days, Valentine's Day spending and a study by the National Christmas Tree Association). Other categories include Anti-Aging, Pampered Pets, Posh Kids and Travel, among others. Recent items include Japanese "decorers" (trend for Japanese girls to decorate themselves like Christmas trees) and what's hot in luxury home features ("Not going away: granite countertops and hardwood floors.")



---
The Wall Street Journal Online

Writers Write

"Other authors find inspiration at sites geared specifically to their craft. Among these, one of the most comprehensive is Writer's Write (www.writerswrite.com). It has links to reference resources including dictionaries, encyclopedias, government agencies and science and health sites that writers might want to visit. There is information on writers' conferences, job listings and media-industry news. There's also a monthly feature called Internet Writing Journal, a free online magazine that interviews established novelists, screenwriters and journalists to glean advice on how to improve writing skills. In one recent issue, Lawrence Block, author of the books "Hope to Die" and "Hit List," offered guidance to new writers on how to create realistic dialogue for characters."
---
The Sydney Morning Herald

Writers Write

"What better route to self-improvement than penning the Great Australian Novel? Move over Patrick White, pipe down Peter Carey - if you look hard enough that work of literary genius may be lurking inside you, just waiting to burst out. The Web is full of resources for aspiring novelists, giving advice on topics ranging from writer's block to negotiating that contract. But let's not get ahead of ourselves: Writers Write has a good range of information for the wannabe literary hero and will help you make that first step to overcome the tyranny of the blank page."
---
WritersMarket.com

Advice from Famous Authors and more...

"Home of the famous Internet Writing Journal, Writers Write features interviews and advice from already established authors to those still searching for their place in the market. Writers Write also includes links to various resources for writers of every genre, news about conferences around the country. Writers can explore job opportunities on Writers Write as well."
---
WildWildWeb Television

Writers Write


"As the digital effects in this summer's movies make our eyes bulge, it's easy for us to forget about the core element of any story: the plot! Whether in film, books, or TV, the writers often get the shaft when it comes to appreciation. Fortunately, the Web does appreciate this great craft, and authors of all levels will appreciate Writers Write. The site tries to be a "one-stop shop" for anyone interested in writing, and it succeeds better than any other writing resource I've seen online. It's an excellent combination of classroom, research aid, magazine, bookstore, and writers' workshop."
Click here for the full review.
---
USA TODAY Hot Site

Writing Journal

"Being connected to the Web doesn't just mean you can browse a great variety of sites. You can also publish your own. But first, you'll have to create some content that people will want to read. Which is where the The Internet Writing Journal comes in. You'll find interviews with accomplished writers, book reviews, writing news and tips."
---
Third Age

Writers Write

Bend to the Literary
"A literary bent getting the best of you? Thumb through Writers Write to see what the world of writing is all about and how you can publish your work.

Each issue features interviews with successful writers and editors who talk about their work and provide tips on how to improve yours. The transcript of a panel featuring fantasy authors tells about building a fictional world and making it come to life with characters and story.

There's also a detailed series of articles on how to go about writing a song. Check the site's archive of book reviews for good reads and for how-to books.

Classified ads will help you find online teachers, writing conferences, contests and publishers. If you want to find an outlet for your writing, enter a descriptive keyword into the writers' guidelines database."
---
Lycos Getting Real

Writers Write


"Technically this is resource for writing pros, but there's plenty of stuff for amateurs too. Read the author interviews, get some advice, and join in on a writing conference. Sooner or later you're bound to bump links with Kurt Vonnegut or somebody."
---
CNN Interactive

Daily News For Writers


"Writers Write has launched its expanded news service and news media resource Web site, The Write News. It's aimed at professional writers and is updated daily on business days with the latest news in the publishing and writing worlds. Other features include World news, Arts news, and an extensive news media database with over 1000 links, a free job listing service, archives, and the HowToWeb Update."
---
NetGuide's Best of the Web

Writers Write Provider: Writers Write, Inc.


"Writers Write is a one-stop resource for professional writers. It boasts links to professional writing organizations online, tips for publication, The Internet Writing Journal and two other proprietary writing journals, newsletters, chat and more of interest to its intended community."
---
USA TODAY

The Internet Writing Journal, Writers Write

"These two sites, provided by Writers Write Inc., host a wealth of information for practicing or would-be writers, publishers, and editors. The current issue of the monthly Journal includes articles on how a Pulitzer Prize nominee creates characters, how to write mystery novels, and other advice for aspiring writers. The main Writers Write site contains numerous writing resources, including guidelines to paying and nonpaying online publications, writing and publishing news, message boards, and job listings."
---
Yahoo Internet Life

Net Navigation -- Specialty Services

"The Write News can provide you with the latest news in the publishing and writing fields plus more than 1,000 links to national and international newspapers and other media resources."
---
Netsurfer Digest

Internet Writing Journal: The Who, What, Where, When and How of Writing


"This nifty writers resource is devoted to info about and for publishers, editors and writers. You get writers' guidelines, writing-related news, access to message boards, and job listings, and articles on all types of writing and editing. A recent edition of The Internet Writing Journal, for example, included articles on topics ranging from e-mail's safety to helping children become writers in the computer age, to the 'secret of writing a great play.' Wannabe Shakespeares"
---
Web Crawler Select Guide

Writers Write

"A mammoth literary resource for writers and editors, featuring an index of online fiction, poetry, and non-fiction publications. Writers Write invites readers to join the literary community through links to chat rooms, message boards, writers' groups, and online publishers. If you're anxious to get in the fray, be sure to check out the Writing Contests area."
---


Click here for more media coverage about Writers Write Inc.'s blogs and websites.
Click here to return to the awards and media mentions homepage.